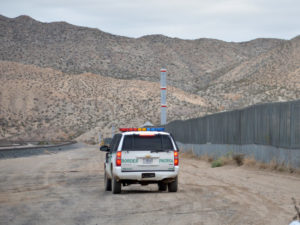 A Mexican man has committed suicide thirty minutes in the wake of being expelled from the United States.
Guadalupe Olivas Valencia, 45, jumped from a bridge at the border after he was expelled for the third time.
He was discovered oblivious alongside a plastic bag with his assets and died in hospital shortly after.
His death came as the Trump organization issued new rules to increase the net for extraditing unlawful migrants from the US.
Eye witnesses said Mr Olivas was yelling that he would not like to go back to Mexico and appeared to be in serious trouble.
He jumped off a bridge just only yards from El Chaparral, the main border crossing point between the US city of San Diego and Tijuana in Mexico.
Nearby media said a plastic sack like those US Customs and Border Protection specialists put migrants' belongings in was beside him.
Mexican migration authorities said it was the third time Mr Olivas had been deported from the US.
He died of heart attack before hitting the ground.
Mr Olivas was a local of Sinaloa, one of Mexico's most vicious states and the fortification of the cartel once in the past drove by imprisoned medication ruler Joaquin "El Chapo" Guzman.
Numerous Mexicans refer to high levels of viciousness as a purpose behind leaving their country for the US.
The US government released two updates on Tuesday focused on accelerating the expulsion of illegal foreigners from the US.
It is expected that 11 million undocumented foreigners live in the US, a considerable lot of them from Mexico, and Mr Trump made migration and border control a key part portion of his electoral crusade.
Prior this month, a Mexican lady who had lived unlawfully in the US from the age of 14 was deported to her nation of origin in spite of protests.
US Secretary of State Rex Tillerson and Homeland Security boss John Kelly are traveling to Mexico later on Wednesday.
The agenda is to meet President Enrique Pena Nieto on Thursday to discuss about border security, law authorization collaboration, and trade.