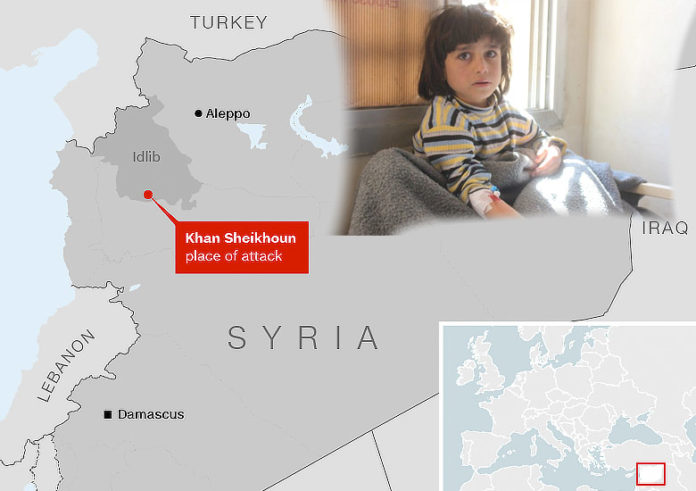 Dozens of people have been reported killed and more than 200 injured in a speculated chemical attack in northern Syria.
Airstrikes hit the city of Khan Sheikhoun in Idlib region at 6:30 a.m. Tuesday, radiating a poisonous chemical gas.
The death row apparently came due to an unknown chemical attack.
Within five minutes after the chemical attack, three more strikes hit the city but luckily, came without any chemical.
There are several videos circulating via social media implying the event that took place and demonstrate individuals, including unresponsive children, children having it difficult to breath, or wearing oxygen masks.
The wounded are now being evacuated to Turkey. The Aleppo Media Center later revealed that few individuals were harmed when an airstrike hit close to a hospital in Khan Sheikhoun where casualties from the prior obvious gas assault were being dealt with.
Report on the death toll from Tuesday
According to al-Diab, the loss of life was not less than 67, while extremist Idlib Media Center revealed that many were killed. In the UK, the Syrian Observatory for Human Rights reported 58 were dead, including ten kids.
In a tweet the Syrian White Helmets tweeted that 50 were killed with almost 300 casualties.
The kind of chemical used in the Tuesday attack has still not been confirmed and there is a big question if the planes used in this attack belong to Syrian. Idlib area is to a great extent controlled by a collusion of Syrian revolt compels and is routinely focused in airstrikes by the Syrian government and its partner, Russia.