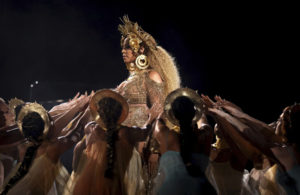 Wearing head-to-toe gold, Beyoncé conveyed an elegantly composed speech after her win for Best Urban Contemporary Album at the 2017 Grammy Music Awards.
Despite the fact that she was up against other skilled artist like Gallant, Anderson .Paak, Rihanna, and KING, Queen Bey ruled. As her better half, Jay Z, little girl, Blue Ivy, and mother, Tina Knowles, looked on, the discernibly pregnant songstress made that big appearance to express gratitude toward her family, Grammy voters, God, fans, and went ahead to examine "agony and misfortune."
She explained the goal of her LEMONADE project was to "deliver a voice to our agony, our battles, our haziness, and our history, and to stand up to issues that make us awkward.