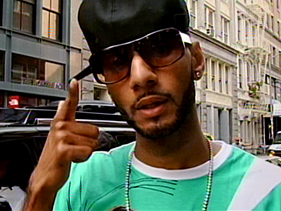 The Internet was buzzing today with news about Wikipedia and a host of other websites' blackout protests over the impending SOPA/PIPA legislation.
Now, the anti-piracy issue has taken a turn with the recent news that rapper/producer Swizz Beatz is the acting CEO of Megaupload and that he's now facing a major lawsuit.
MTV reports that the multi-platinum producer for DMX and Jay-Z is now fighting a major lawsuit against Universal Music Group and his involvement with the popular storage and file sharing website. Last year, Swizz enlisted Diddy, Will.I.Am, Kanye West and a host of other musicians and media personalities to help film a promotional video in support his site, which has come under fire in the past for it application in the music and video piracy.
These artists' support apparently didn't sit too well with Universal Music Group. The music conglomerate – which owns Hip Hop powerhouses like Def Jam and Interscope – issued a lawsuit and a YouTube take-down notice against the Megaupload video over the song's featured artists, whose appearance they didn't clear. Now, Swizzy and Megaupload are firing back at UMG with a counter-suit.
The video in question can be seen below. We will keep you updated as more information about the suit comes to light.
Contrary to earlier reports, Swizz Beatz is not the CEO of Megaupload and was not named in the shutdown of the company yesterday (Jan. 19th). "To my knowledge, Swizz Beatz was never involved in any meaningful way, He was negotiating to become the CEO, but it was never official," said Ira Rothken, Megaupload's attorney.