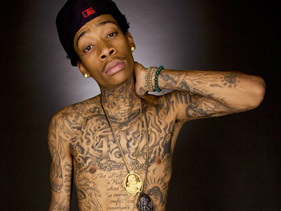 Wiz Khalifa Drops Some Hints About His Nicki Minaj Collab
From its name alone, "True Colors" sounds like it would be an uplifting, positive song — not to mention the classic hit of the same name with many versions. And Wiz Khalifa says that's exactly what his upcoming collaboration with Nicki Minaj, off of Blacc Hollywood, is going to be.
"We actually didn't get to get in the studio together, but the song is crazy," Wiz told MTV News of the track on Friday (July 24), during the Team Epiphany-hosted Oh Ship Summer Fridays boat cruise in New York City.
"The idea behind it is just real inspirational, reaching out, just trying to tell people — give 'em a little bit of message," he said of the song, which will be the last track on the standard version of the album. "Use our celebrity to motivate. It's a good song."
Something tells us we can take his word for it on that last part, but we'll find out for sure when the album drops on August 19.
Original source MTV: