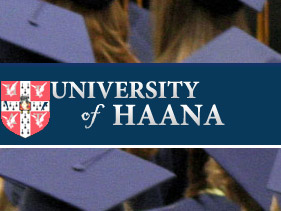 A New Educational Institute – University Of Haana
A new University said to be in action by the end of this year in has been planned the Haana Institute of Education. The "University of Haana." will be awarding Bachelor Degrees, Master Degrees, PHD Degrees and other Intermediate degrees (CMI, BTEC, etc).
The Bachelor, Masters and PHD will be accredited by Institute and its UK partners. According to the Haana CEO, Mrs Sandra Sanders , "lot of people are still finding themselves learning at a distance even in institutions where face to face is in existence. So, whether or not we see ourselves as engaged in the business of distance education, we at Haana have the broad understanding of the requirements of distance learners and some idea of how best to support them while they attempt to learn".
Speaking to University of Haana spoke man, Mr Marklin Edwards stated "The overarching goal of University of Haana initiative is to support workers and individuals aspires who aims to reach a higher educational level. University of Haana will narrow the achievement gap between students from low and higher income families as well as workers who are not able to further their education due to their daily work."
Speaking about eligibility, preferred capacity/qualifications, and basis for award, Mrs Lehmann added, "University of Haana will accept the able and disabled. The University can be attend by any one worldwide. If English is not the first language the student will need an English language qualification. Our students after graduating will have an excellent employment and earnings, due to the diverse nature, opportunities will exist in a variety of many due to the British certificates they will be offered.
COURSES TO OFFER:
Business Administration
Management
Technology
Computer Science
Education
Hospitality,
Psychology and Health,
Environmental Science
Language
Accounting
….and more…
LEVELS:
Undergraduate degrees (BA, BSC)
Foundation degrees (HND)
Joint Honours
Postgraduate degrees
Masters degrees
Research (PHD)
Professional courses Modules
For further inquiries, please visit us on our website UNIVERSITY OF HAANA.