GHANA – A massive tree felt on students who were on a trip while swimming, killing almost 17 of them.
This occurred during a heavy rainstorm and winds. An observer disclosed that the vast majority of those included were students of the Wenchi Senior High School and tourist.
According to the Brong Ahafo local police chief Owusu Boampong, Twenty-two others were harmed and are being treated at a local hospital.
A local media reported that, chainsaws were used to cut through the fallen tree before those trapped underneath were saved. The Police and fire service were included in the protect operation.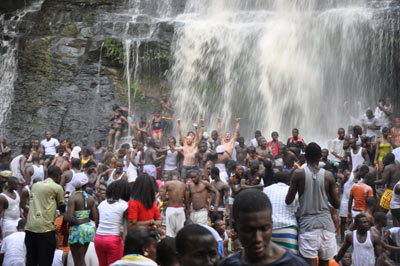 The site at Kintampo waterfalls, is one of the nation's top tourist attractions and draws many foreigners and local people. It is in the central Brong-Ahafo region, 400km (250 miles) north of the capital Accra.
It's particularly occupied at the end of the week and mostly by students, who originate from the five locales, mostly during school outings to the site.
The area is enriched with vegetation and huge overhanging trees, making it much attractive to visit.
Exactly a year ago, almost 60 people were killed in a car accident around this same area.
Ghana president Nana Akufo Addo tweeted his sympathies to the family of the victims.