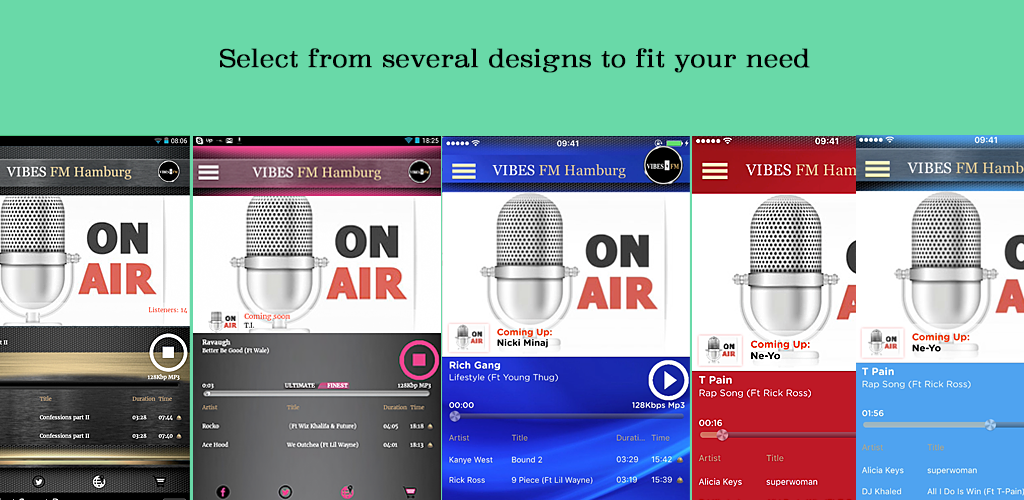 The Android version for Vibes FM Hamburg and Unit FM is now available on the google Play store. All streaming links on the old App will not work anymore. To stay in tune, download the new version now from Google play store. Click here to download the new APP.

////ioS version is still under development. We will inform you when it is ready.
WHAT NEW ON THIS APP
THE STATIONS:
This app comes your way with two stations.
VIBES FM Hamburg: the final ultimate black music radio station and the market leader in private radios when it comes to black music, urban, soul, rap, r&b, several programs and world news.
UNIT FM
Unit comes your way with the main stream, news and songs around the globe.
FEATURES ON THE APP
The App comes with many features and not limited to the following:
(1) Switch between both stations on the same App
(2) Request for a song
(3) Change between 6 templates and design
(4) Set radio alarm to remind or wake you up every morning.
(5) Set alarm based on your favorite artist
(6) Concierge Services possibilities
(7) Trending
(8) Switch between stations
(9) Enable and disable ads
(10)Enable and disable push notifications
(11)Enable and disable radio auto-start
(12) Services: We offer a system for you to chat with our customer services who will help you with any questions you have. Not only about music but also about traveling services, hotel bookings, shopping, making restaurant reservations, arranging for spa services, recommending night life hot spots, booking transportation (like taxi, limousines, airplanes, boats, etc.), coordinating porter service and more.
WELL ORGANIZED DESIGNS
The App has 5 different layout style, and 5 color scheme. Well organized and clean. Switch with ease from one template to the other without any interruptions.
VISUALS
Get info on your favorite artist, see their images, the coming soon artist and everything all in one.
RELEVANT
With this app, you have got everything under one umbrella. Select from two stations. Vibes FM Hamburg comes your way with best black music while UNIT FM comes your way with contemporary music around the world.
SONG REQUEST
Request for your favorite artist or songs you liked from both stations.
ALARM
Waking up in the morning has never been simple for you. Most circumstances you find it difficult to open your eyes in the morning, and the more awful part is to come to wake up suddenly from a deep sleep when the standard phones alarm goes off loudly. With our alarm, you will begin the day feeling very much refreshed and alert as opposed to the standard alarm on your phone. We have eased this up with a sweet wake-up music. By utilizing our alarm, you could exclusively choose either Vibes FM Hamburg or Unit FM Chart Station to wake you up and likewise, wish for your favorite artist or music to wake you up each morning through our request platform. The more you use our alarm, the more it creates a consistent rhythm from day to day. We advice you to set the alarm one hour prior to your new sleep time so that you do not forget to set it up. You could also set it one time and it will repeatedly wake you up the same time every day, however, we do advice you to set it up everyday before going to bed. After setting the alarm, you can choose to close the app, delete it from your notifications and even use other apps on your phone. You could also make calls and even chat with friends. We do only advice you not to turn off your phone. You could likewise set the alarm whiles listening to your favorite station. Just set the alarm and let the app do the rest!
INDIVIDUAL SETTINGS
Save your settings and get personal recommendations that fits your taste in music. You can even set the app to start automatically or manually.
SERVICES & TRAVELING SERVICES
We offer a system for you to chat with our customer services who will help you with traveling services, hotel bookings, shopping, spa services, recommending night clubs, booking transportation, coordinating porter service and more.
PUNCTUAL And TECHNOLOGY
The app alarm clock will wake you up at the right time. You do not need to be have an internet connection. We have integrated a system that requires no internet connection to wake you up.
VIBES FM Hamburg Website: https://www.vibesfm.de
UNIT FM Website: https://www.unitfm.com
Visit our website for more info: www.xvex.de