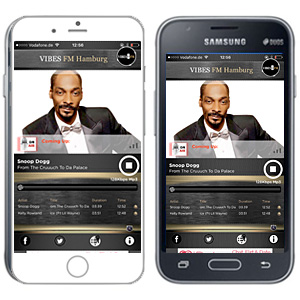 The ios version for Vibes FM Hamburg and Unit FM is now available on the Apple Store. Click here to download the new APP.

VISUALS
Get info on your favorite artist, see their images, the coming soon artist and everything all in one.
RELEVANT
With this app, you have got everything under one umbrella. Select from two stations. Vibes FM Hamburg comes your way with best black music while UNIT FM comes your way with contemporary music around the world.
SONG REQUEST
Request for your favorite artist or songs you liked from both stations.
ALARM
Waking up in the morning has never been simple for you.
INDIVIDUAL SETTINGS
Save your settings and get personal recommendations that fits your taste in music. You can even set the app to start automatically or manually.
PUNCTUAL And TECHNOLOGY
The app alarm clock will wake you up at the right time. You do not need to be have an internet connection. We have integrated a system that requires no internet connection to wake you up.
VIBES FM Hamburg Website: https://www.vibesfm.de
UNIT FM Website: https://www.unitfm.com