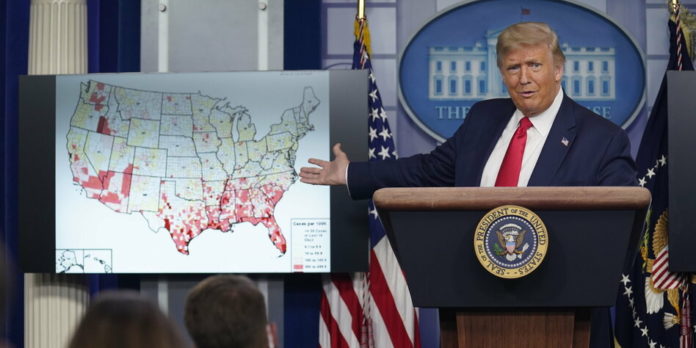 The US is setting an unpleasant record in the wake of the coronavirus pandemic and it's doing so with so much speed.
Just after 1,000 people died in a single day, the country is almost at 4 million cases.
President Donald Trump stated that the United States has now conducted over 50 million coronavirus tests. He told reporters at a White House briefing that people should wear masks, pay attention to social distancing and wash their hands. "While hot spots like Florida and Texas have popped up, it's all going to work out", he said.
In light of this, a leading medical expert has advised that Americans who are looking up to the creation of a vaccine as the way out of the coronavirus pandemic should consider a more comprehensive approach.
"Pinning all our hopes on a vaccine that works immediately is not the right strategy," Dr. William Haseltine, a former professor at Harvard University's medical and public health schools, said in an interview.
Dr Haseltine said a broad public health strategy is a better way to contain the spread of the virus along with the help of a vaccine and therapeutic drugs. Making the wearing of masks mandatory will help but Haseltine said, "we need a lot more than masks to contain this epidemic that's running through our country like a freight train."
Haseltine recommended closing bars and other social places where young people congregate at night as well as ban the congregation of large meetings in the most badly-hit regions. "Life won't get better until people make major changes to their behavior and public health services come forward with more resources", he said.
He said the earliest a vaccine could be developed is still six months away and he warned not to underestimate the fatality of coronavirus. Haseltine, who is known for his work on fighting cancer and HIV/AIDS, said it won't be easy to develop a vaccine.
"These are tricky viruses," he said. "It's not as simple as measles or mumps. It's going to be a lot more complicated"
Also, the Human Services Secretary, Alex Azar, in another interview mentioned that any vaccine sponsored by the United States to curb the coronavirus would either be free to the American public or very affordable.
"For any vaccine that we have bought, so for instance the Pfizer vaccine, those hundred million doses would actually be acquired by the US government, then given for free to Americans," Azar said.
He also mentioned that the same would apply with the AstraZeneca and the Novovax vaccines. "We will ensure that any vaccine that we're involved in sponsoring is either free to the American people or is affordable," Azar said.
However, while some anti-mask protesters refuse to wear a piece of cloth to help save American lives, enormous signs of altruism have come up. More than 100,000 people have volunteered to participate in Covid-19 vaccine clinical trials, said Dr. Anthony Fauci, director of the National Institute of Allergy and Infectious Diseases. "I think we'll be fine with regards to getting enough people," Fauci said during a webinar Wednesday.