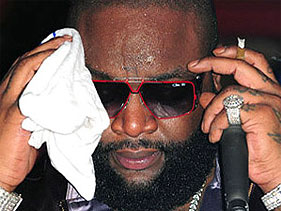 Ross, who was not injured in the incident, has not spoken out publicly about the early Monday morning drive-by.
"I just heard a bunch of gun shots go off and a car sped by," said one woman, who identified herself as the manager of The Floridian diner, where Ross was celebrating his 37th birthday early Monday morning with friends just before chaos erupted.
The call came in around 5 a.m. and the woman told dispatchers that, "My server just left on her bike. Oh my God, they're turning around and coming back. I'm hanging up."An operator asked how many shots she heard and the woman said she wasn't sure, but that she was scared.
"They're coming back!" she said. "I'm hiding!"
The restaurant was hit with some of the bullets from the reported two dozen or so shots fired, which MTV News witnessed on Tuesday (January 30) when a team visited the Floridian to check out the scene.Though the restaurant is once again open for business, and Las Olas Blvd is bustling, signs of the shooting are everywhere: bullet holes dot walls both inside and out, and several of the Floridian's windows are heavily taped to mask the glass that was shattered by gunfire.
Ross has reportedly ramped up security since the incident, hiring full-time armed security guards, according to TMZ, who said the shooting served as an "eye-opener" for the rapper born William L. Roberts.Among the other voices on the edited 911 calls released by the Fort Lauderdale Police Department were ones in which some witnesses described a man in a red shirt at the scene after the Rolls crashed into an apartment building behind the restaurant, according to the South Florida Sun-Sentinel.Another caller described hearing nine shots, including one that went through the window of the Floridian, but did not strike any patrons or staffers.
The owner of the Tiffany Nail & Foot Spa across the street from the crime scene pointed to a newly installed window and told the paper that police suspect one of the bullets meant for Ross ricocheted and cracked the glass on her storefront.