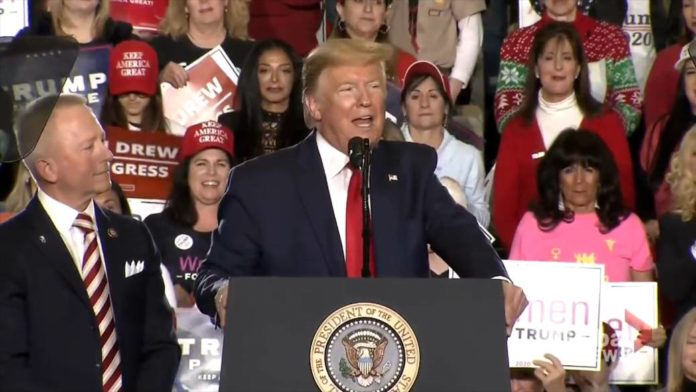 President Donald Trump is the third president to have been impeached in the history of the United States
President Donald Trump impeachment has ended. The other two, Bill Clinton in 1999 and Andrew Johnson in 1868, were allowed to continue ruling by the Senate and did not try to get re-elected. There is also the case of President Richard Nixon who resigned before he could be impeached.
The call for impeachment arose from Mr Trump's phone call on 25 July 2019 in which he asked Ukraine's President Volodymyr Zelensky to "do us a favour". Following a report from an anonymous government whistle-blower, Democrats began their investigation in September.
President Trump was charged with an abuse of power when he withheld $391m in aid from Ukraine, then shortly after that asking the Ukrainian president, Volodymyr, to investigate Joe Biden and his son. Trump insisted that the younger Biden improperly held a board position with a Ukrainian natural gas firm while his father was US vice-president and in charge of American-Ukrainian relations. He was also charged with obstruction of Congress after the White House refused a testimony and documents sought by the House impeachment investigators.
Trump, who is seeking a second four-year term in the 3 November election, always denied being guilty. In his re-election campaign, it said in a statement: "President Trump has been totally vindicated and it's now time to get back to the business of the American people. "The do-nothing Democrats know they can't beat him, so they had to impeach him." It continued by saying "this terrible ordeal" and "nonsense" was merely a Democratic campaign tactic.
The acquittal in the Senate is a measure of his political strength among Republican voters and the combination of admiration and fear with which he is regarded by Republican officeholders.
Trump led his own defence early on. He denied House Democrats' allegations, fought off investigators' demands for information, and with the help of allies in Congress held Republicans together in turning the whole affair into a partisan exercise.
According to analysts, though the outcome of the trial gives Trump a political win, it does not resolve questions about how he blocked aid to Ukraine and his request for foreign involvement in the upcoming 2020 US presidential election this November. Also, they believe the manner in which the trial was conducted also gives Democrats some good points to term the acquittal as not a big victory for Trump, but rather, a loss for the country.
Jim Henson, a pollster and director of the Texas Politics Project at the University of Texas, has said that while the impeachment has consumed Washington, DC, most Americans have viewed it from a distance through their personal partisan lens. As a result, very few voters' have their minds changed about Trump. "Viewership was down for the Senate trial phase. People were not interrupting their schedules to watch." "Most people view it as the latest episode in partisan fighting that is just getting more and more intense," he said.
President Trump, speaking from the White House, thanked his family "for sticking through it."This was not part of the deal," he said.
He then called up his daughter, Ivanka, and the first lady, Melania Trump, to the podium and hugged them both. "I want to apologize to my family for having them have to go through a phony, rotten deal by some very evil and sick people," he said.