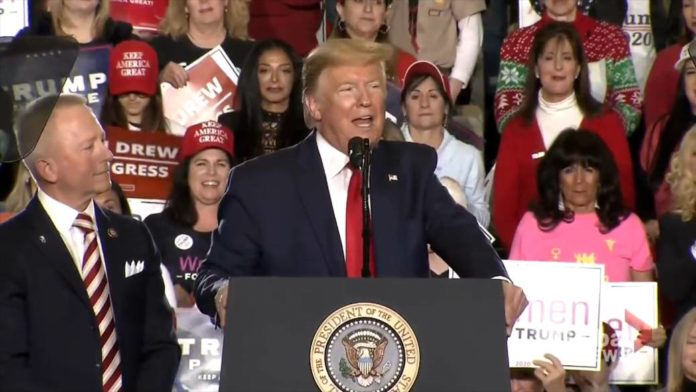 Facebook has taken the most criticized approach to political speech
Facebook revealed on Thursday that it had done away with the misleading ads run by President Trump's re-election campaign about the 2020 census, in a stand against disinformation ahead of the decennial population count that is set to start next week.
Earlier this week, "Trump Make America Great Again" , a joint fund-raising arm of Donald J. Trump for President Inc. and the Republican National Committee, started displaying ads on the social media site that according to Facebook, could have caused confusion with regards to the timing of the census.
"President Trump needs you to take the Official 2020 Congressional District Census today. We need to hear from you before the most important election in American history," the ad said. The ad asked followers to "respond NOW" to help our campaign messaging strategy, with an appeal to text "TRUMP to 8022."
According to Civil rights groups, the Census Bureau was going to start the population survey next week, and the ad's apparent linking to the survey was a misrepresentation.
The census has become another disinformation test for social media companies. Facebook, Twitter and YouTube have been put under pressure for how they handle political speeches as well as their approach to policing their platforms. Candidates in this year's presidential election are expected to spend hundreds of millions of dollars on political ads, and the social media companies are already encountering a struggle to enforce consistent policies.
Facebook has taken the most criticized approach to political speech, allowing candidates and their campaigns to post misleading information and targeting those messages to particular audiences.
Facebook said that the Trump campaign's message violated its policy against meddling in the census, an important survey and population count used to construct electoral maps. Facebook is against the misrepresentation of dates, locations, times and methods for census participation. According to them, "There are policies in place to prevent confusion around the official U.S. census and this is an example of those being enforced,"
Once when Trump posted an edited video of Speaker Nancy Pelosi, Facebook and Twitter refused to take the video down as well as a 30-second video ad on Facebook in October which also falsely accused former Vice President Joseph R. Biden Jr. of blackmailing Ukrainian officials to stop an investigation of his son.
The decision to remove the ads was an exception to Facebook's lenient political speech policy. Mark Zuckerberg said last fall in a speech that, his company would not arbitrate the harms of speech from political leaders. The speech drew strong criticism from civil rights groups and some Democrats.
Civil rights groups, which have been passing caution about the possibility of disinformation regarding the census, alerted Facebook to the misleading ads Wednesday evening. According to Vanita Gupta, Facebook was not willing to take down Mr. Trump's campaign ads on the census when they were first notified about it. Ms. Gupta said she communicated through email with Mr. Zuckerberg and Facebook's chief operating officer, Sheryl Sandberg. The company changed its position by Thursday afternoon, she said.
Ms. Gupta has warned that social media could be a target platform for misinformation on the census, a concern among civil rights leaders, who fear a miscount of the population could badly affect districting for voters and lead to voter suppression.
"While we're gratified that Facebook shut down Trump's attempt to sow confusion about how and when to participate in the 2020 census, it's disturbing that the ads weren't immediately removed," Ms. Gupta said in a statement. "We will continue to hold Facebook accountable to enforce it. Nothing should distract from making sure everyone gets counted."
Other civil rights leaders shared that the delay in action by Facebook showed weakness in its own enforcement. They added that the social media network was not proactive enough and had placed the burden on the public to inform them about abuses on the site.
"While Facebook has now committed to removing the misinforming post in question, the damage is done," said Rashad Robinson, president of Color of Change, a civil rights group. "Going forward, harmful and misleading ads must be flagged in a pre-posting review process, not after they've hit hundreds, if not thousands, of news feeds,"
President Trump's re-election campaign team refused to make a statement on this development.