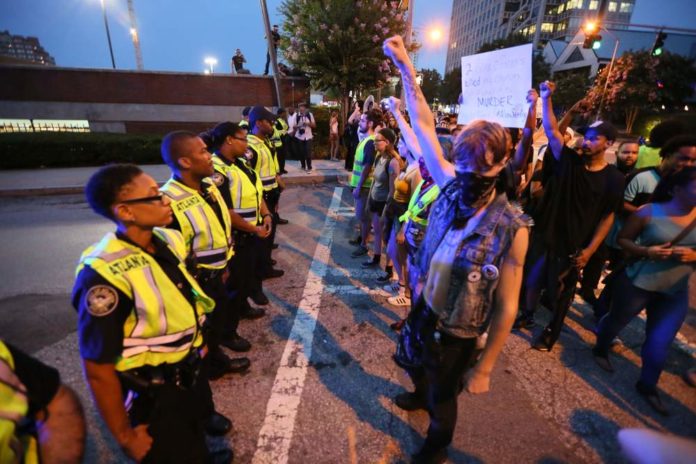 Another demonstration in protest of police brutality
Months after the shock of the death of George Floyd as a result of police brutality, yet another man, identified as Jacob Blake Jnr has been the victim of a police shooting.
On Sunday evening, Blake was on a Kenosha street where he was "breaking up a fight between two women," said Benjamin Crump, an attorney hired by the family. The police arrived, responding to a call they got about a domestic incident, police said.
Raysean White, a resident in the area, was across the street and said he heard two women arguing around the time Blake arrived. He said he doesn't know what started the arguement.
White was filming the incident when Blake walked away, toward the driver's side of his car, and opened the door. In the now viral video, police are seen closely following Blake and shooting him seven times in the back as he leans into the car, where his three sons, ages 3, 5 and 8, were seated in the back seat.
Blake is now in a Milwaukee hospital, where he has remained in intensive care after a surgery was operated on him. According to his father, "It's going to take a miracle for Jacob Blake Jr. to ever walk again."
"Blake suffered multiple injuries, including a gunshot wound to one arm, damage to his kidney, liver and spinal cord", said Salvi Jr. "He had a bullet go through some or all of his spinal cord, at least one bullet. He has holes in his stomach. He had to have nearly his entire colon and small intestines removed," Salvi added, saying the family will file a civil lawsuit against the police department over the shooting.
"As I was riding through here, through this city, I noticed a lot of damage that doesn't reflect my son or my family," said Julia Jackson, Blake's mother.
"If Jacob knew what was going on as far as that goes, the violence and the destruction, he would be very unpleased." His dad also said They shot my son seven times, seven times. Like he didn't matter. But my son matters, he's a human being and he matters."
He also added that "All my grandson asks repeatedly is 'Why did police shoot my daddy in the back?"

"Thank God he's alive," Blake's uncle, Justin Blake, said. "We're just praying for a great recovery, that he may have a great quality of life and that his father, my brother, can enjoy him."
This incident sparked yet again another demonstration in protest of police brutality. After demonstrators torched cars and set buildings ablaze, Blake's mother called for peaceful protests and said her son would not be pleased with "the violence and the destruction. She asked for prayers not only for her son but for healing across the country. Blake's family is rooted in a legacy of activism and devotion.
Days after the shooting, authorities are revealing more information about the shooting. The investigation was quickly turned over to the Wisconsin Department of Justice and a federal civil rights investigation was launched, but so far neither Blake nor his family have heard from the agency, their attorneys said.
"We demand transparency in these circumstances. The family, the community, the state of Wisconsin and the country all deserve answers," attorney B'Ivory LaMarr said. "The officers should be named, more importantly those officers should be charged."