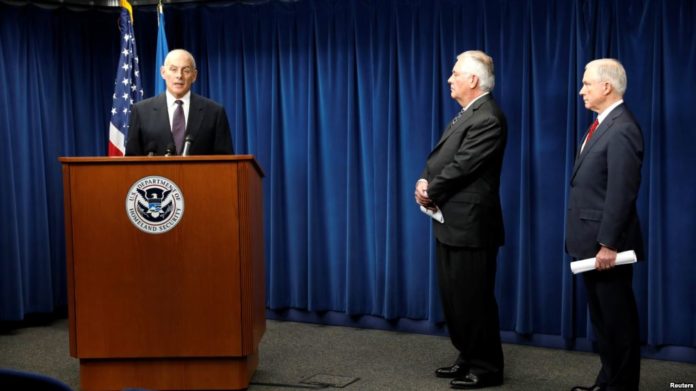 U.S. President Donald Trump confirms another official order Monday, banning travelers from six nations to the United States for three months, and all refugees for four months, after the federal judges disapproved last month.
"This official order is a fundamental measure for fortifying our national security," Secretary of State Rex Tillerson said at public conference announcing the new boycott. " It is the duty of the president to ensure the security of the American people."
The roll out of the new safety measures contributes to an affirmation by the Trump administration that its unique travel ban policy, issued January 27, was flawed.
While trying to guarantee a simple act of the travel restriction and shield it from lawful scrutiny, the new official order is different form the old order in various factors.
Some of these changes comprises of Iragis not being part of the suspended countries
apart from Iran, Libya, Somalia, Sudan, Syria, and Yemen.
The new ban takes immediate effect on March 16 without any effect on legitimate citizens with green cards or travelers visas as of January 27, 2017.
Iraq was exempted from the list after they promised to increase collaboration with U.S. authorities in regards to the verifying procedure, according to a senior official with the Department of Homeland Security (DHS), who addressed journalists on a telephone call.
Baghdad, a major partner in the U.S. battle against Islamic State activists, had complained when Iraq was exempted from the banned countries.