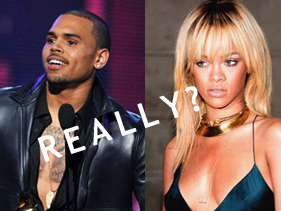 As RiRi apparently introduces new beau Ashton Kutcher to her brother…
Rihanna and Chris Brown are reportedly planning to reunite on stage for a performance at Supafest in Brisbane, Australia.
The former couple, who ended their romance in 2009 after Brown infamously assaulted the Barbadian babe before a pre-Grammy Awards party, are rumoured to be in talks for a surprise duet at the event in April after teaming up on two songs together.
Last month, RiRi revealed Breezy had collaborated with her on a remix of her Talk That Talk album track Birthday Cake, while she returned the favour by featuring with on a remix of Chris' new single, Turn Up The Music.
Despite being criticised by her fans for working with Brown, a source close to both parties has told NewsAU that a surprise performance between the pair at Supafest is a "definite possibility" , adding that if they do take to the stage together, it "won't be decided until the last minute."
Reports also suggest that Rihanna and Brown's management are keen for them to strike up a professional partnership outside America.
Chris is set to headline Supafest on 14th April alongside the likes of the We Found Love singer, P. Diddy and Missy Elliott.
Meanwhile in other Rihanna news, things between the 24-year old and actor Ashton Kutcher are apparently hotting up, with The Sun reporting she wants him to join her in London this summer for her stints headlining Wireless Festival and Radio 1's Hackney Weekend.
The newspaper claims that RiRi has been dating Kutcher for eight weeks following his split from wife Demi Moore, and has even introduced the Two And A Half Men star to her little brother, Rorrey.
A source revealed: "Rihanna and Rorrey, who releases music under the name GQ, are close so him meeting Ashton is a big deal. Rihanna clearly thinks things between them are serious."
News of their supposed romance spread like wildfire last week, after RiRi was spotted leaving Ashton's bachelor pad in Los Angeles at 4am.
Podcast: Play in new window | Download